Credit: Oscar Sutton via Unsplash
Advertising spending, as determined by media agency bookings, reached a record $852 million in November 2021.
SMI (Standard Media Index) data shows a 1.5% increase in media investment compared to the same months in 2020.
And the increase continues, as early December data showed that 97% of total ad spend last December was already confirmed, excluding digital spending.
The advertising market is doing well above many other sectors, says Jane Rachtlef, managing director of SMI AU/NZ.
"Given the level of uncertainty within the economy, it is astonishing to see such a resilient advertising market in November with a total media investment of $852 million per month which is a level of ad spending that has not been achieved before in Australia," she says.
For the fiscal year, total ad spend increased 16.3% compared to the same period in 2020, and increased by 6.4% in the same five months of 2019. The level of ad spend for 2021 is 25% higher than SMI's ad spend in the same fifteen months. Years. Since 2011.
November was also notable, with both Australia and New Zealand showing that digital media has overtaken traditional television to emerge as the largest standalone media.
Digital advertising spending rose 7.6% in total for the month of November. This coincided with a decline in TV spending after the record rise of TV after COVID last year.
However, if traditional television is combined with its BVOD-related digital reservations, "video" media remains the largest.
Radio delivered the highest growth in ad spend in November (+8.5%) while COVID restrictions once again affected Outdoor and reported a flat result.
An extra Sunday last November hurt both newspapers and media magazines this month, given even fewer.
The government category continued to support the total demand for advertisements, as it emerged as the third largest category after raising bookings with a remarkable 41.1%.
This partially offset continued declines in spending on automated brand advertising, with that total back 19.3% in November as restricted supply lines reduced demand.
Over the 11 months of the calendar year, total ad spend increased by 20.8% in the same months of 2020, which is also a 1.8% increase in ad spend during 2019.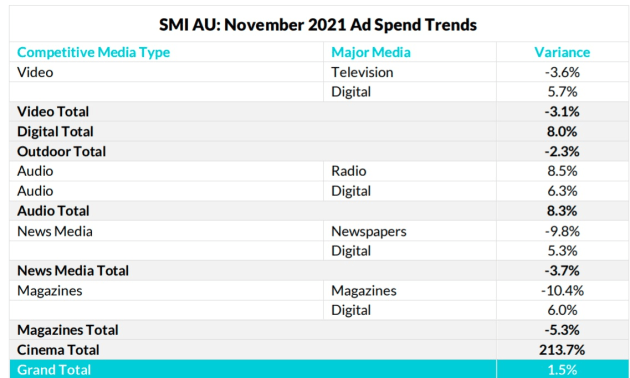 Do you have anything to say about this? Share your opinions in the comments section below. Or if you have a news story or tip, email us at adnews@yaffa.com.au
Subscribe to the AdNews newsletter, like us on Facebook or follow us on Twitter For breaking stories and campaigns throughout the day.